Coconut Oil Poop Candy is wonderful for constipation relief. I love Coconut Oil. I go through gallons of it a year. I use it topically in homemade creams, lotions and makeup removers and for rashes, burns or other skin irritation. I also use it for cooking and baking. I love it for gluten-free baking because it makes whatever you are making soft with a beautiful texture. Gluten-free products can get dry very quickly and I have found that using coconut oil in baking keeps the baked goods softer longer as well. It handles high heat so is excellent for frying food. Cold pressed Virgin Coconut oil is incredibly good for you. It is antimicrobial and anti-fungal so it can help when you are battling fungal or bacterial issues.
Coconut Oil is Very Effective for Constipation
Coconut Oil is wonderful for constipation. Coconut oil is rich in Medium Chain Fatty Acids. MCFA's boost your metabolism which makes the stool pass through your intestines faster, the oil coats and lubricates harder old stool making it easier to pass and it softens the newly formed stool making it easier to pass.
If you are struggling with long-term constipation issues or just get backed up occasionally, I highly recommend adding coconut oil to your diet. There are many ways to enjoy coconut oil. Instead of using other oils in your cooking or baking, you can use coconut oil, you can use it instead of butter on toast or veggies, you can add it to your hot beverages like coffee or tea and make a "Bulletproof" version. Some people just eat it directly off the spoon. It has a mild, almost sweet flavor.
How to Get Enough Coconut Oil in Your Diet to Relieve Constipation
It can be tricky to get enough coconut oil into children who are struggling with constipation. Especially children with sensory issues or autism or ones who just don't like the taste of coconut oil. One of the easiest ways I have found to get children to eat enough coconut oil to relieve constipation is with Chocolate Coconut Oil Poop Candy.
I use Organic Cold Pressed Coconut Oil from Amazon and these Enjoy Life Allergy Free Chocolate Chips. These chocolate chips are gluten-free and dairy-free. Gluten and dairy are common causes of constipation. For more information on gluten and dairy and how they can contribute to constipation, please read my articles Is Dairy Causing Your Constipation? and Is Gluten Causing Your Constipation?
If your child is a picky eater and you are trying to get them to eat a wider variety of healthy food, my children's book Dash is a New Fooder! is available on Amazon. Dash models healthy choices and is a wonderful role model for your child. Plus, he is a super cute puppy that children love.
Coconut Oil "Poop Candy" Recipe
You want to use equal parts chocolate chips to coconut oil. 1 cup to 1 cup or 1/2 cup to 1/2 cup. If you are going to make a lot of these, a Double Boiler is really handy. If you don't have one, you can make a makeshift double boiler with a Pyrex bowl over a pan. Add a couple of inches of water to the pan, put the bowl over the pan and then heat on low heat while stirring the chocolate/coconut oil mixture until it melts. Once it is smooth and lump free, pour it into a silicone candy mold. I added a sprinkle of Course Ground Celtic Sea Salt to the mold before I poured in the chocolate. Celtic Sea Salt is full of minerals and helps with constipation. Plus my family loves salted chocolate. My Homemade Electrolyte Drink uses Celtic Sea Salt.
I used this Red Heart Silicone Candy Mold and I am planning to get this Fun Set of Silicone Candy Molds. It has molds for gummy bears, hearts, stars or you can get a Set with Lego Brick Molds. You can even get silly and ironic and get these Silicone Poop Emoji Candy Molds! Amazon has tons of fun options that will make these candies even more fun for you or your child.
Carefully put the filled mold in the refrigerator or freezer until the chocolates are firm. the silicone molds can bend so it often helps to put the mold on a plate before you add the chocolate so you can carry it to the fridge without spilling it. It usually takes less 30 minutes for them to harden depending on the size of the mold. Then pop the chocolates out and serve. The chocolates that are leftover need to be stored in the fridge or freezer. They melt quickly and can be messy. My son isn't much of a sweet eater but he loves these.
One of my readers shared " I made these a week ago. My son is 8 I did 2 in the morning and 2 in the afternoon and it took about 3 full days for results. But since then we have had a BM every day…..finally! Yay!"
If your child doesn't like chocolate you can use any nut or seed butter instead of the chocolate chips or you can use candy melts or add in ground flax meal, shredded coconut, or dried nuts or seeds to change the texture.
I have a cookbook that contains multiple Poop Candy recipes including Berry Poop Candy, Lemon, Peanut Butter Cup, Coconut Free Poop Candy (for people who can't eat coconut oil or don't like the flavor and Peppermint Poop Candy along with recipes for probiotic lemonade, Bone Broth, Fermented Ginger Ale, and many more. You can get My Constipation Relief and Gut Healing Cookbook on Amazon.
My book, Dash's Belly Ache, a book for children who can't or won't poop, is available on Amazon. The star of the book is Dash, a border collie pup who won't poop. His doctor gives him a special treat in the book that helps him to have a bowel movement. The recipe for the treat is in the book and also in this article. If your child is struggling with constipation, withholding or is resistant to pooping, Dash's Belly Ache is a helpful tool to add to your arsenal to help them overcome their struggle. You can buy Dash's Belly Ache on Amazon.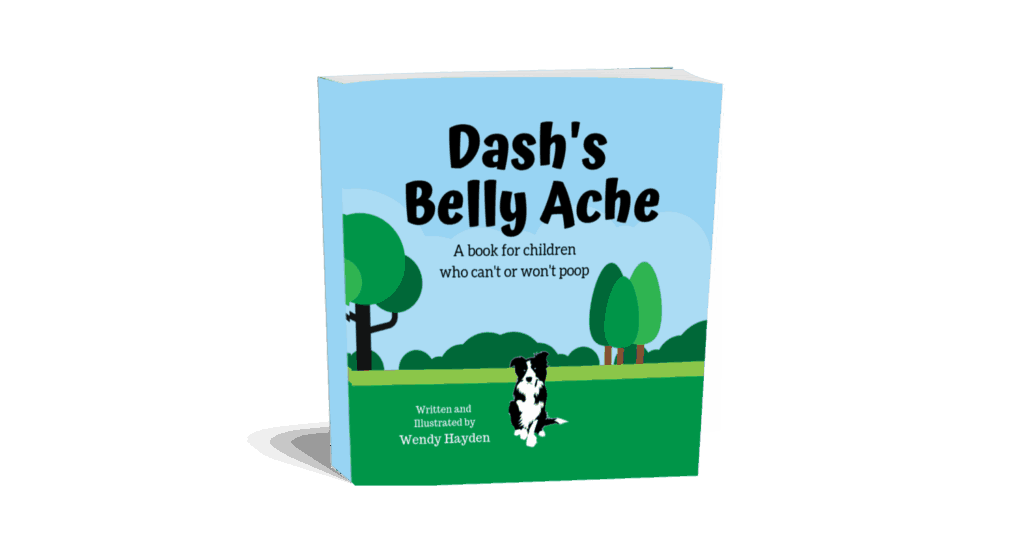 I would start out slowly with just one or two depending on the size of your mold (The hearts are about an inch across and my son eats two at a time) and then have a couple every two hours until they go. Coconut oil can cause very loose stools if you eat a lot of it. That can be a benefit, or not so much, depending on what your goal is.
I hope these fun, and effective, candies help you!
If you enjoyed this recipe and love peanut butter cups, then my recipe Peanut Butter Cup Coconut Oil Poop Candy For Constipation Relief is another super tasty way to get lots of coconut oil in your diet!
When your child is chronically or functionally constipated, it is frustrating and exhausting for both you and your child. It can also be very hard to figure out what interventions are helping to overcome their constipation and what regiment needs to be followed to help them go 1-3 times a day.
To make it easier for you to track the interventions you are using and what impact this regiment has, I want to offer you a free bowel movement tracker chart that you can download and then print off for each week. It will help keep you organized and will give you insight into what works to help you overcome your child's constipation.
It is very helpful to track what you are giving your child and how it is working. It seems like you will remember how much magnesium or how many Chocolate Coconut Oil Poop Candies your child had last Tuesday when they had 2 great BMs, but the reality is that it is very hard to remember everything when you are stressed about your child's constipation.
Click on this link and sign up to receive a Free Bowel Movement Tracker Chart to help you find a plan to manage your child's constipation.
My book, What Your Doctor Didn't Tell You About Childhood Constipation is available on Amazon as an eBook and a paperback. If you purchase the paperback you get the eBook for free through Amazon's matchbook program.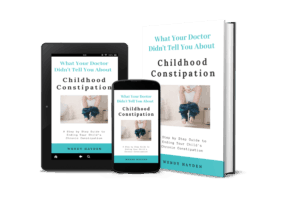 If your child is struggling with chronic constipation my article How Do I Solve My Child's Chronic Constipation? will help you with getting them to go short term and then working towards a long-term solution to their constipation. If you are struggling with chronic constipation my article How To Relieve Your Chronic Constipation Naturally will help you.
Until you figure out why you or your child is constipated, you will have a hard time solving their constipation permanently. No amount of coconut oil or magnesium will work long term if you or your child is celiac or gluten intolerant and still eating wheat or if they are dairy intolerant and still eating and drinking dairy. Working on Finding the Root Cause of Constipation is critical in solving constipation permanently.
I've partnered with Thrive Market because I really believe in their mission of offering gluten free, dairy free, organic and non-GMO foods for a reasonable price. If you sign up through this link you will get 25% off of your first order and a free 30-day membership to try them out. This is a great place to order organic peanut butter, organic chocolate chips and organic coconut oil for up to 50% off of regular store prices and it is delivered right to your door! I know that with all of our food restrictions I often have to go to 3 or even 4 stores to get everything that we need. Thrive Market has made it so much easier to get healthy, safe food for my family and has helped me to not break our budget but to still feed my family the quality of food I want to. Click here to try it out! Thrive Market Free Trial and 25% off first order
For information on testing that can help you get to the root cause of your constipation please read my post Recommended Lab Testing for Chronic Constipation
For more support, please consider joining either or both of my Facebook groups.
This post contains affiliate links
*DISCLAIMER, I AM NOT A DOCTOR OR MEDICAL HEALTH PROFESSIONAL. ALL IDEAS DISCUSSED AND DESCRIBED IN THIS POST ARE MY OWN AND ARE NOT MEANT TO TREAT OR DIAGNOSE. IF YOU HAVE A MEDICAL CONDITION PLEASE SPEAK WITH YOUR DOCTOR.